Drive targeted performance for a sustainable ecosystem
Value opportunities
More now than ever, it's vital we manage and optimise our contracted technology and business relationships.
Suppeco's a leader in the field, quite simply because as practitioners we've been optimising reciprocal relationships for years. One of Suppeco's key features is that its built on the absolute belief that strong and healthy relationships are the core enabler of an infinite array of structured opportunities to drive innovation and sustainable growth for ecosystems and supply chain.
We believe passionately that healthy relationships are the centre and enablers of everything.
We also appreciate that we don't live within the confines or the pages of a commercially, legally drafted contract. Moreover everything that happens within a live operational environment is invariably subject to something. To support modern increasingly dispersed ecosystems, we wanted to create digital freedom whilst promoting a structured virtual space for real-time engagement.
Create bespoke environments
Business relationships thrive on structure, otherwise they become dysfunctional. KPIs rely on those structures, otherwise they become ineffective. This is typically the area of any engagement that lacks the sophistication of baselined measurability.
Suppeco does the heavy lifting here; creating baseline and structure through its 4 Pillars Dynamic Infrastructure, specifically geared towards effective KPI deployment, service measurement and improvement.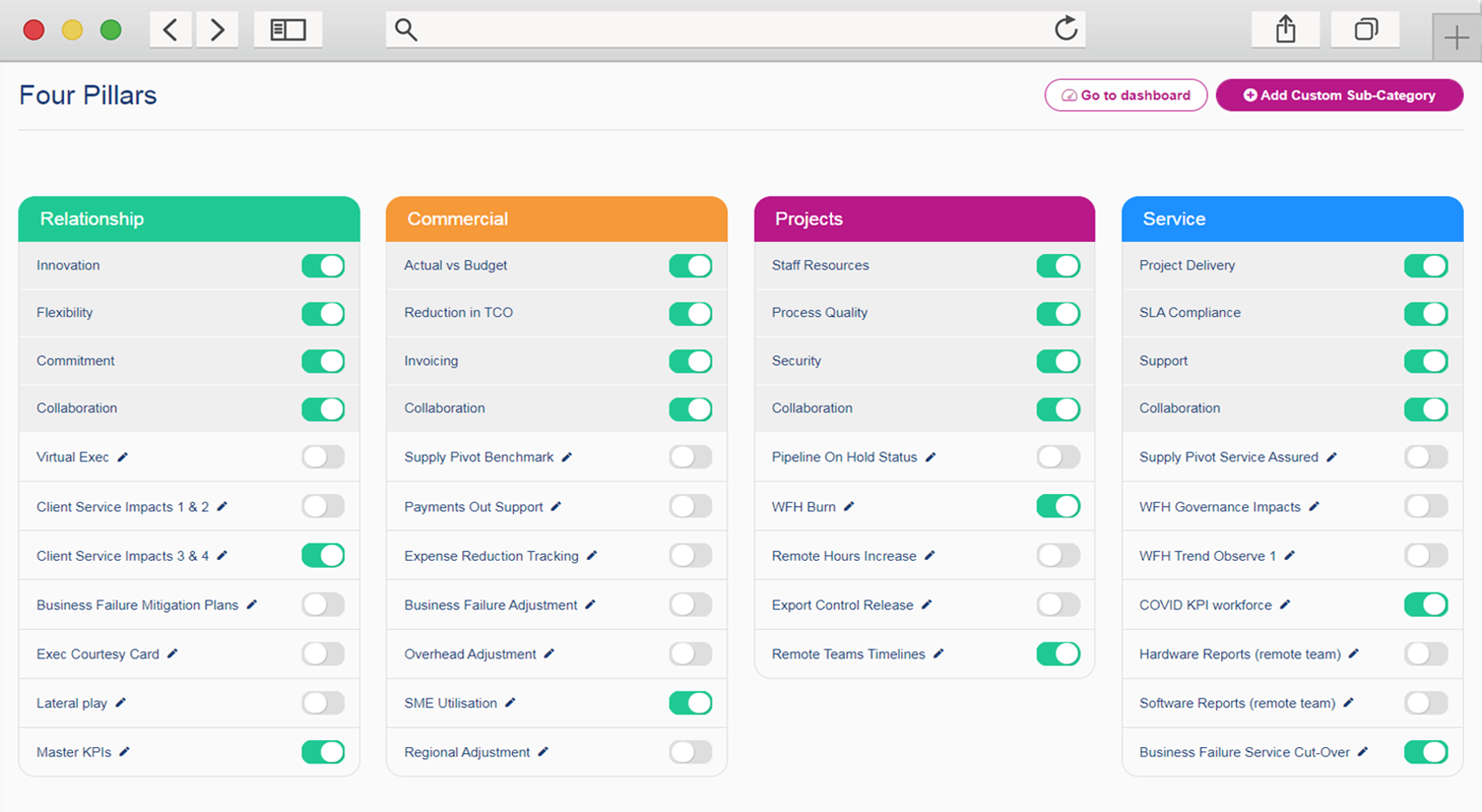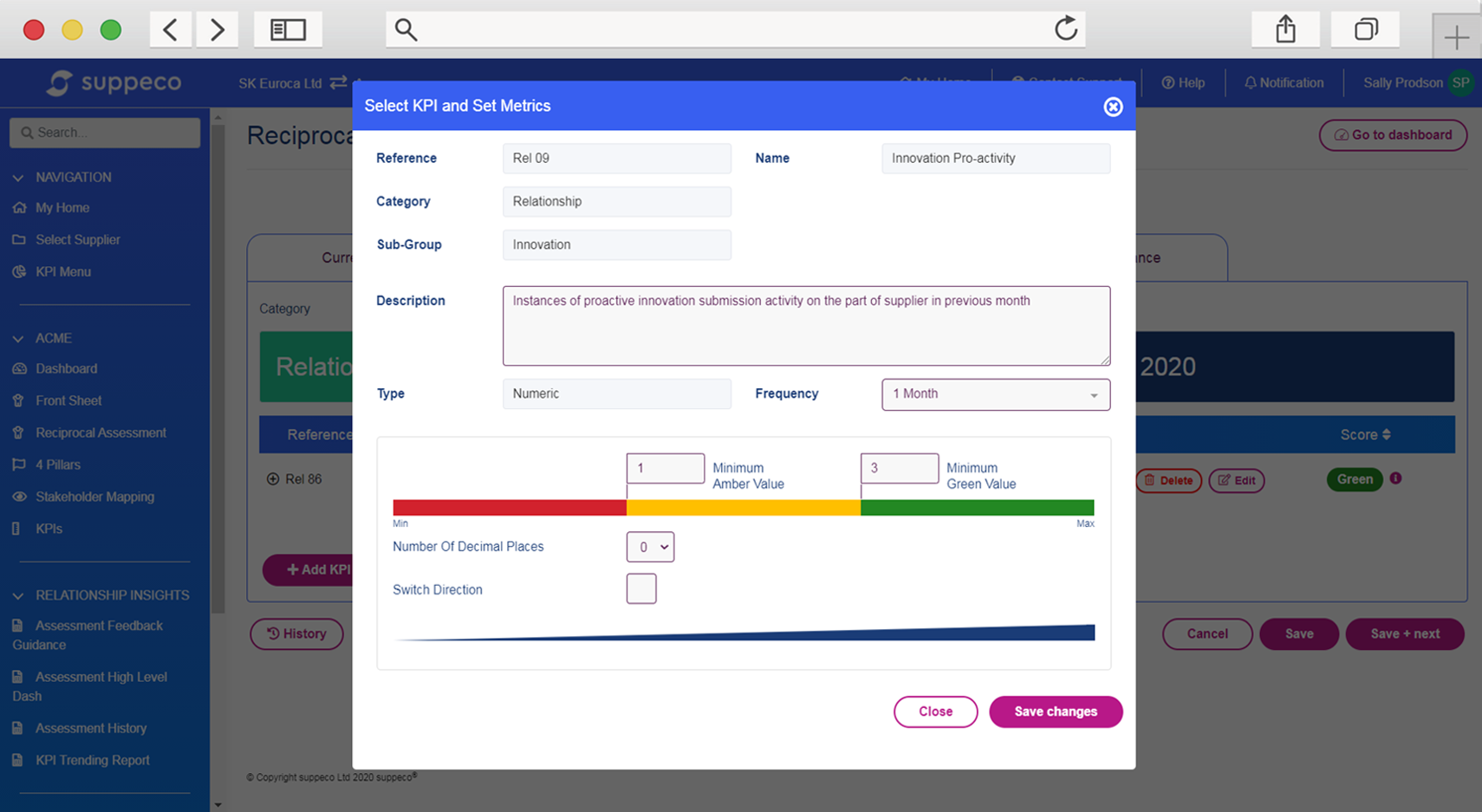 Deploy an unlimited range of value levers
Suppeco's KPI engine is best of breed. It offers an extensive library of regularly updated and configurable KPIs and will automatically serve optional suggestions based on live initiatives.
Our KPI engine also features the most comprehensive custom KPI creation suite – designed to support the capture and tracking of any requirement.
Dynamically track performance and resilience
SUPPECO creates an infinite array of targeted opportunity to drive service improvement, as well as monitoring and assuring service resilience.
Fully configurable categories, and optionally activated bespoke channels support in depth mapped and relevant stakeholder assessment and contribution.
Fully responsive. Any device, any location.
Create real-time interactive insights
2 key points to note on data. Firstly, data is clearly hugely important; perhaps the single most important component of measurability. Secondly, data ages quickly.
Rather than create static reports, SUPPECO delivers an array of live data insights – crucial contributions from engagement-wide stakeholder communities, or from the field.
Dynamic data insights from digital collaborative relationship solutions such as SUPPECO have been shown to contribute to an additional 3 – 10% incremental savings annually.
Why Suppeco

Drives Collaboration
Built with ISO44001 in mind we understand group and bilateral collaboration. But Suppeco also recognises relationships and service are about understanding people

Minimises Risk
No generic risk library, Suppeco generates a dynamic risk engine that learns and updates as the relationship with your suppliers evolve and improve

Completely Reciprocal
Many challenges originate on the customer side of the relationship. Suppeco recognises this and thus the need for absolute reciprocity

Increases Mutual Trust
Reciprocal service improvement transparency. Suppeco inherently recognises that mutual trust is the cornerstone of all successful business relationships

Better Communications
Suppeco promotes strong relationships that thrive on good communication, and so will intrinsically garner valuable stakeholder opinion and support
What do companies using the Suppeco platform say
Client partnerships now need to be focused on driving value to build relationships - long term. With extensive experience within relationship management, this is the first time I have seen a product that allows both client and supplier to work on the same platform.

With the ability to clearly drive and measure success outside of the generic financial data, Suppeco quantifies the unseen value add and offers collaboration in real time across both entities. It focuses on driving opportunities through rich data for both cost-saving and optimisation of every aspect of the relationship.

We are confident that Suppeco will become an invaluable tool as we build on our relationship with BAE, the ability to interact in realtime as service requirements and new projects unfold within the relationship is excellent. We especially like the selection of dashboard insights that allow any potential issues to be flagged immediately.

During the initial rollout we were invited to provide feedback and have seen the system quickly advance to allow even more interactive and open input from both partners in the relationship. We can absolutely see the value this provides through a true 360 overview of all managed activity.
Suppeco benefits and features

Real Time Collaboration
Real time communications functionality for immediate collaboration on service improvement planning between you and your suppliers

AI Enabled
Introduction of AI and Big Data to enhance supplier relationship risk assessment by combining real world influences and internally generated data

Dynamic Insights
Real time and versatile insights capability to suit different styles and needs with the ability to integrate your company's BI reports

Federated Access
Integrates with your company's directory login services allowing central access control. Log-in locally also available for SMEs'

Software as a Service
Truly elastic services and subscription models to meet the demands of your company whether a global enterprise or an SME

Security Compliant
Helps protect information in line with increasingly rigid regulatory requirements such as the General Data Protection Regulation (GDPR)
Arrange a demo to see how Suppeco can help drive real value for your organisation